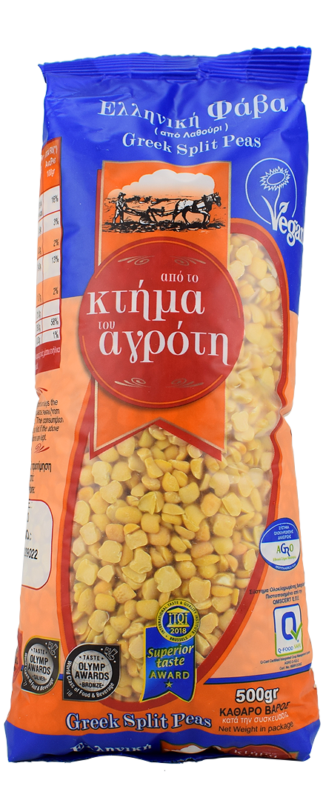 Greek Fava (from Lathyrus sativus)
Edible lathyrus sativus is one of the first legumes ever cultivated by humans according to archaeological reports.
It has been cultivated in our regions for many years due to its good adaptation to hot dry conditions.
"Fava" is the fruit of Lathyrus sativus plant. After being dried, it is crumbled and cooked to produce the well known dish.
The velvet texture and the special aroma list fava on the most wanted destinations of the travelers of taste.
Fava is usually served as an appetizer or as a side dish. It is usually served either plain or "mixed" (married as it is the folklore word), with sautéed onion, olive oil, lemon and caper.
Energy 1444 kj / 341.1 kcal
Fats 0.7 g, of which 0.2 g are saturated
Carbohydrates 52.5 g, of which 1.5g sugars
Fibers 8.8 g
Proteins 26.8 g
Salt 0g
Energy 17.1%
Fats 1.0 g, of which 1.0% are saturated
Carbohydrates 20.2%, of which 1.7% sugars
Fibers 35.2%
Proteins 53.6%
Salt 0.0%
Nutrition Declaration for raw product
(*) Reference Intake of an average adult (8400kJ/2000kcal).